How You Can Help
Make a Financial Contribution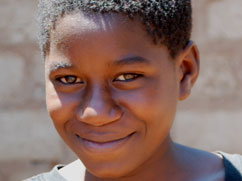 The best way for you to help Masomo for Children is to make a financial contribution, either through a general donation or a monthly sponsorship. Financial contributions are preferred to unsolicited donations of goods, because: (1) the costs of shipping the goods to Mwanza are oftentimes greater than the value of the donated goods; and (2) we can usually find these goods in or nearby Mwanza, which allows us to give the local economy a little boost.
General donations are used to supplement the cost of rising tuition fees and to provide school supplies and uniforms to disadvantaged children.
Since administrative costs are not funded by donation revenue, this is a unique opportunity for you to contribute to an international effort and know that 100% of your donation will directly benefit its cause.
Be assured that all donations are greatly appreciated and no amount is ever too small to make a difference.
What Can Your Donation Do?
$20 provides a primary student with a pair of shoes.
$25 buys lunch for a secondary student every day for an entire academic year.
$30 per month pays for the cost of sending an underprivileged youth to a vocational training college for one year.
$50 pays for the cost of one secondary student's text books and exercise books.
$60 per month covers the sponsorship of one student attending an international school in Mwanza.
$200 can pay for school supplies for the children of an entire orphanage for one year.
$250 covers the tuition fees of sending one secondary student to a good quality government secondary school for a full year.
$500 covers all expenses (i.e. tuition fees, uniform, examination fees, lunches, school supplies, etc.) for a student attending a local private school in Mwanza for a full year.
Become a Sponsor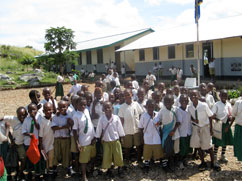 Sponsoring a student's tuition fees through Masomo for Children is an excellent way to make a direct and lasting impact on the future of an underprivileged child in a third-world country. All sponsors receive photos of their sponsored children, as well as annual updates on their progress in school.
The promise of a monthly sponsorship that covers the cost of a student's tuition greatly assists us in planning and budgeting for the cost of our students' education.
If you are interested in becoming a sponsor, please contact us at info@masomoforchildren.org
Fundraise for Masomo for Children
Would your school be interested in participating a "Students Helping Students" fundraiser for Masomo for Children?
Are you interested in hosting a party or event to raise funds for Masomo for Children?

Are you interested in launching a fundraising campaign for Masomo for Children at your workplace?
… if so we'd love to hear from you! Please contact us info@masomoforchildren.org
"Education is the salvation of struggling societies."
-- Stephen Lewis